Skip to Main Content
It looks like you're using Internet Explorer 11 or older. This website works best with modern browsers such as the latest versions of Chrome, Firefox, Safari, and Edge. If you continue with this browser, you may see unexpected results.
A Tale of Two Pandemics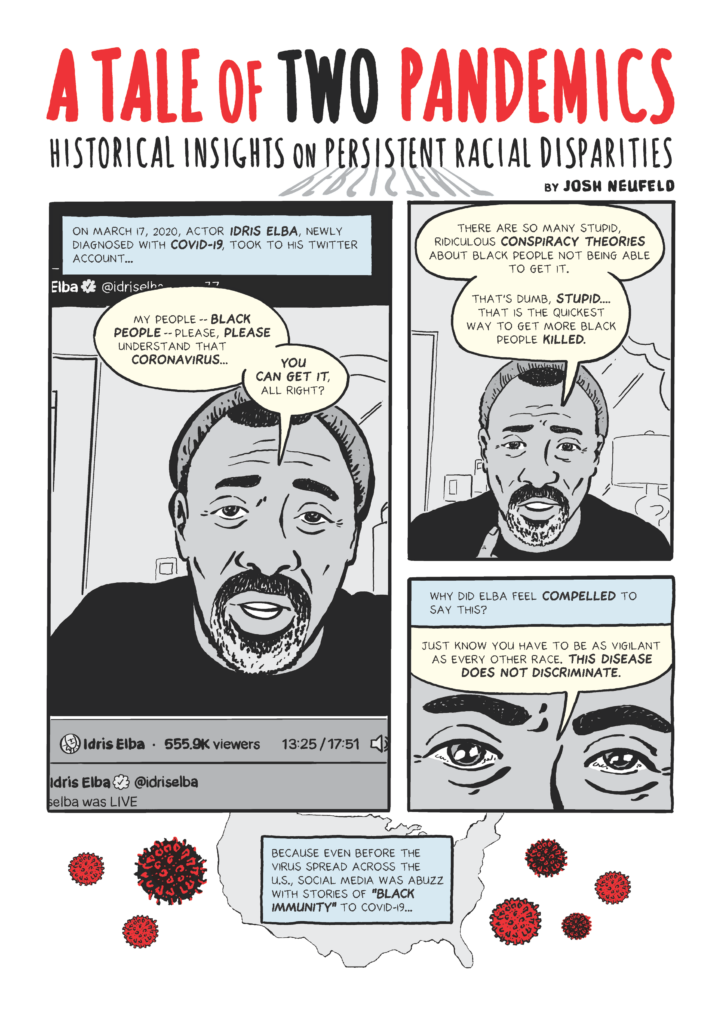 Josh Neufeld's "A Tale of Two Pandemics" uses the form of comics journalism to highlight a recent research article published in the Annals of Internal Medicine. The comic draws on the research article itself, along with additional sources — including interviews with co-authors Lakshmi Krishnan, S. Michelle Ogunwole and Lisa A. Cooper. The three medical doctors are the main characters of the comic, which explains racial health disparities and the spread of misinformation during the coronavirus pandemic and the 1918 influenza pandemic.
How Racism Makes Us Sick
Why does race matter so profoundly for health? David R. Williams developed a scale to measure the impact of discrimination on well-being, going beyond traditional measures like income and education to reveal how factors like implicit bias, residential segregation and negative stereotypes create and sustain inequality. In this eye-opening talk, Williams presents evidence for how racism is producing a rigged system -- and offers hopeful examples of programs across the US that are working to dismantle discrimination.
Duration: 17 minutes
The Problem With Race Based Medicine
Social justice advocate and law scholar Dorothy Roberts has a precise and powerful message: Race-based medicine is bad medicine. Even today, many doctors still use race as a medical shortcut; they make important decisions about things like pain tolerance based on a patient's skin color instead of medical observation and measurement. In this searing talk, Roberts lays out the lingering traces of race-based medicine -- and invites us to be a part of ending it. "It is more urgent than ever to finally abandon this backward legacy," she says, "and to affirm our common humanity by ending the social inequalities that truly divide us."
Duration: 15 minutes
Resources on Health Disparities and COVID-19
Harvard Medical School's curated collection of Webinars, Pocasts, News, Articles, Reports, Institutions, Organizations, Funding Opportunities, and Additional Resources relating to Health Disparities and COVID-19.
The Trauma of Systematic Racism Is Killing Black Women. A First Step Toward Change...
T. Morgan Dixon and Vanessa Garrison, founders of the health nonprofit GirlTrek, are on a mission to reduce the leading causes of preventable death among Black women -- and build communities in the process. How? By getting one million women and girls to prioritize their self-care, lacing up their shoes and walking in the direction of their healthiest, most fulfilled lives.
Duration: 16 minutes